Real Estate Buyers Resources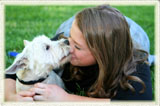 According to Geoff Walsh, "Your home is where you hang your heart! It is usually the most expensive and emotional purchase people make. You need to hire a Real Estate ExpertTM and avoid the many potential pitfalls during the buying process."

Searching and buying a home by yourself or with a poor Realtor is an experience that elicits a hybrid of emotions ranging from stress, distrust, anxiety, frustration, buyer's remorse, uncertainty, and fear. One mistake in the process can cost buyers money either now, or later.

Many Buyers fail to understand how important it is to hire an expert for such an involved and sizable purchase. Some Buyers actually believe they will get a better price deal on new construction without a Realtor, by convincing the builder to deduct the standard agent commission. In reality, real estate agents are paid from a marketing budget, and the sales associate onsite representing the builder usually negotiates a better deal for the seller if a professional does not represent your interest.
There are so many details involved in any home purchase including:
Product (the Home)
New or preowned construction
Quality of builders
Competitive Market Analysis
Location
Price
Floor plans
Taxes
School Rankings
Market Conditions
Resale issues
Municipal projects, planned developments, infrastructure initiatives
HOA fees
Restrictive Covenants
Seller Disclosures
Loan qualification and financing
Binding contracts with lots of detailed legal ease
Required legal Addendums
Negotiations
Quality and construction issues
Engineering standards
Inspections
Structural and Foundation questions
Energy efficiency and mandated standards
TREC requirements
Pest control issues
Post purchase upgrade or remodel issues
Home warranty options
Escrow and Title Companies
Closing Requirements
Coordination of Home, Financing, Inspections, Funding, Closing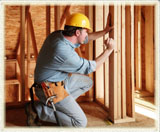 Purchasing a new or preowned home is a trying, laboring experience wrought with potential liability for the Buyer without the expertise of a true Real Estate ExpertTM. There are so many moving parts in a real estate transaction. It would be ridiculous to not hire the most qualified professional to handle your transaction.

Geoff Walsh, The Real Estate ExpertTM, makes sure every Buyer is comfortable and confident with the process of buying a home whether you are a first time homebuyer or seeking a multi-million dollar custom luxury home. The Buyer Initiatives methodology, created by Geoff, makes your home purchase journey exhilarating, rewarding, fun, and worry-free.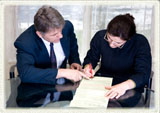 Let Geoff shoulder the responsibility and help you realize your dream while always knowing that expertise, honesty, and unsurpassed business skills are representing your side of the transaction.
Hire Geoff Walsh, The Real Estate ExpertTM, to advise, represent and assist along the journey enabling you to far exceed your Home expectations. Best of all, Geoff's skills and service to a Buyer are FREE! It does not cost YOU anything and will most likely save YOU money and several headaches.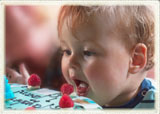 The #1 rule for Geoff is "If I would not live in the house, neither will my client!" This is a very high bar set by Geoff making sure the client gets the best possible home for the money.
Please take a few moments, and fill out the form below so we can better understand your "wants and needs" in a home purchase. Let Geoff's experience and skills go to work for YOU knowing your needs are his top priority!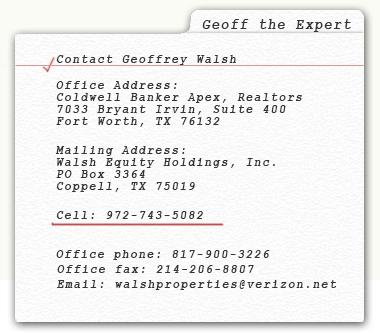 Tell me what features you are looking for in your
new home. I will let you know as soon as I find a
home that matches your specifications.
© 2007-2017 Walsh Equity Holdings, Inc., All Rights Reserved.